About us
A special combination of traditional aesthetics and your mood.
PETRADI HOTEL The luxurious and cozy place for your excursion to Pelion Mountain throughout the year!
At Pelion the mountain of legends and history, an environment of incomparable beauty, where the forest green blends with the emerald blue of the sea, providing unique views, is situated one of the best hotels in Pelion, Petradi Hotel Pelion at the traditional village of Kalamaki, where the legendary Pelion stones are produced.
Located just 32 km from Volos, 10-15 minutes after Milies village, and 15 km before Tsagarada, Kalamaki or Propan, as the locals use to call it, gets the rightful position as an ideal destination due to its spectacular beauty as well as the newly built Petradi Hotel Pelion, a true jewel of the area and one of the most luxurious and affordable hotels in Pelion that has been realised with lots of love and passion by its owner Fouli Lemoni. For this blessed place the history talks by itself.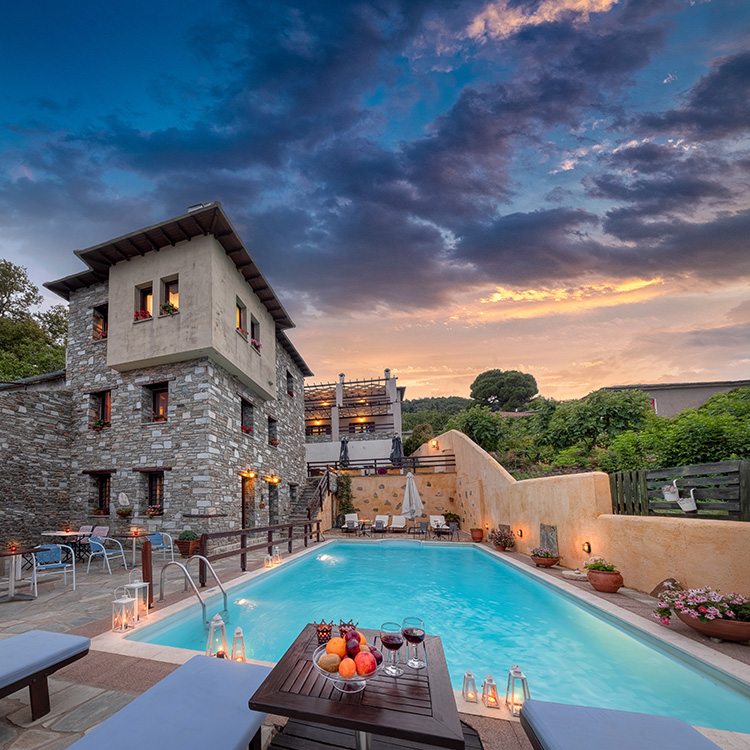 The beauty is described in its name. Kalamaki (reed) comes from the homonymous divine beach, located just 2 km from the village, where clear, drinkable water wells out of a natural spring between the rocks. The old habitats used to put a long, bamboo style, reed (called Kalamaki in Greek) in order to create a small spring to drink the water or use it for a bath.
The second name Propan comes from the Greek word "Propantos", meaning the first of all the others. This is because Propan is situated in the north east of Pelion and it is the first of all other villages to face the Aegean Sea and the sun that rises from Aegean. This is the location where the traditional Pelion-stones, also known as 'Propan-stones', are being extracted. It is from these stones that, amongst others, the monasteries at the Holy Mountain Athos as well as the cobbled paths (called kalderimia in Greek) in all over Pelion were built.
Petradi Hotel in Pelion, situated almost in the centre of Pelion, in between of Milies and Tsagarada, with an easy access to Pagasitikos bay and the Aegean sea makes it the unique choice for those visitors who wish to circle around in Pelion and visit the rest of the 24 traditional villages.
Kalamaki and Petradi hotel in Pelion, one of the best hotels Pelion is the ideal choice for those visitors who quest a luxurious stay, in a natural environment, taking advantage of the relaxation and calmness, whilst not loosing the choice of an easy access to entertainment; at a glance it is the place, the people, the organisation, that will guaranty you that your vacations will be unforgettable.